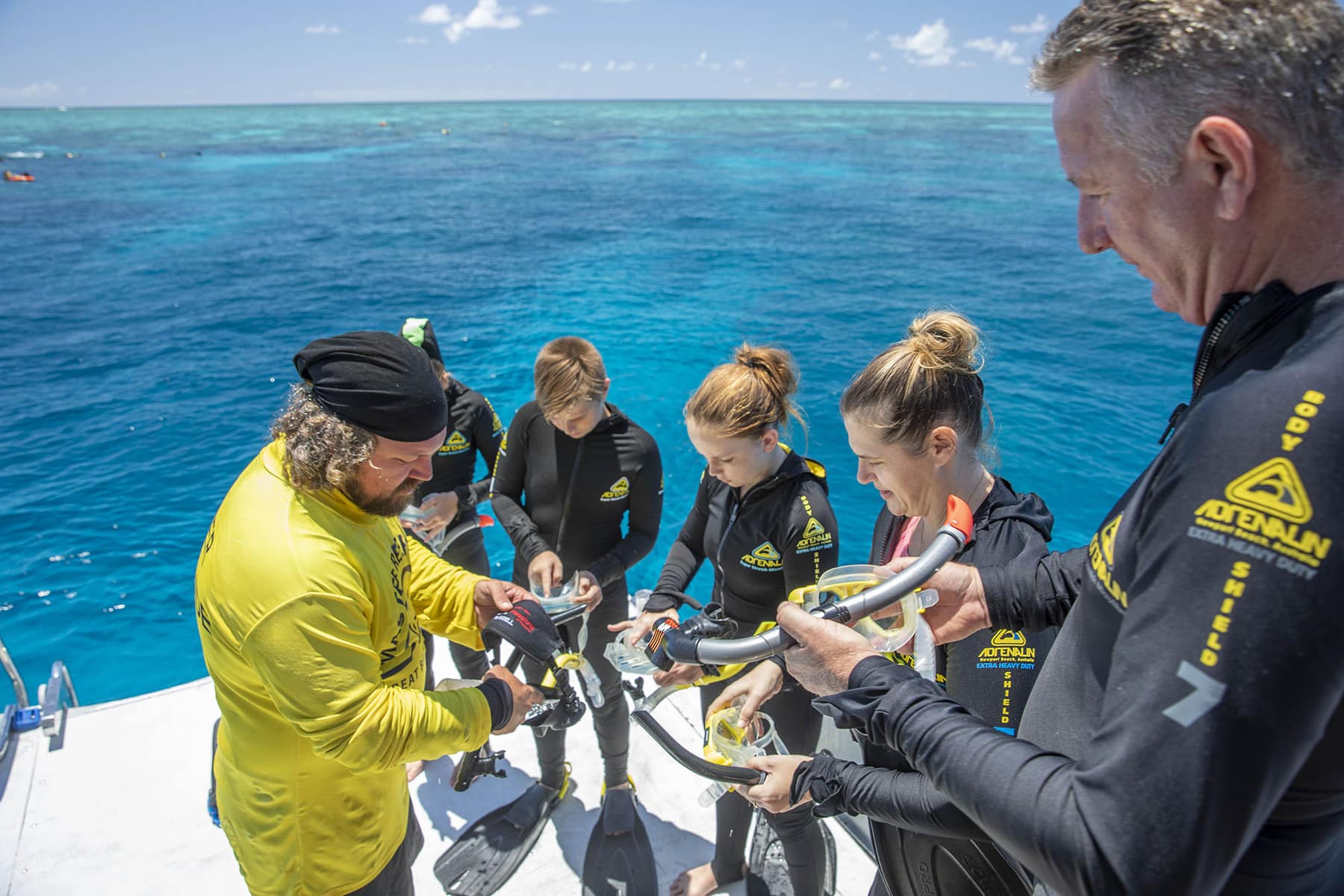 With the Holidays rapidly approaching, schools across the world will be going on break, and families will be looking to keep their kids busy and happy. Many parents use the holiday season to go on holiday with the family, and the Great Barrier Reef is often a top destination this time of year. While a day trip to the Great Barrier Reef is a great experience for the whole family, parents travelling with small children may find that the task of teaching young children to snorkel can prove quite difficult; indeed, some parents have a hard time even getting young ones into the water. So, with school holidays rapidly approaching, we thought we'd give parents looking to book a trip out to the reef some advice on how to maximise the experience for everyone, parents and kids alike.
When snorkelling with young children (ages around 5-10), it is often a good idea to get them acquainted with the water before actually going on a trip to the reef. If possible, start your snorkel lessons in the bath-tub or swimming pool. To start, let your child play with the snorkel by itself, and get the hang of breathing through it; make it into a game, and alternate between blowing bubbles underwater and showing them how to breathe properly. Now, try the face-mask (without the snorkel). Have your child position just the front of the face-mask on his/her face. Make sure the face-mask fits well—kids can't stand it when water leaks in! To test the fit, have your child inhale through the nose (a good tip is to tell them it's like smelling a flower): the mask should stick on his/her face. Be sure to smooth back all stray hair, otherwise water will leak in. After they are comfortable with each piece of equipment, try combining the two; remember, you're trying to get them comfortable with the process, not necessarily turn them into professionals.
Also, before you leave, keep in mind that many operators will have snorkel sets for children, but they may be in a generic size and not necessarily fit your child. If you do decide to buy your own snorkel equipment for your child, you don't need to buy expensive snorkel sets; in fact, it may be better to buy inexpensive gear and get a few extra masks to increase your chances of getting a good fit on little faces. (Don't buy the really, really cheap little-kid sets though.)
A major, invaluable piece of advice before setting out on a snorkel trip with your children: Make sure you're comfortable with your own snorkeling equipment. You'll have to give full attention to your child as she/he explores this exciting new world. Do your best to get the kids comfortable on dry land or on the boat, but also be prepared to make adjustments when you get into the water. Don't be afraid to ask crew and staff members for assistance, and it is always advised to use flotation devices (such as lifejackets) with small children. Once you're underway and snorkelling properly, remind your child to be mindful of their surroundings: kids get so absorbed in what they're seeing, they tend not to notice other snorkelers, which can result in kicking others, or worse, kicking or standing on the coral.
Hopefully, these tips will help you organise your trip out to the Great Barrier Reef. If you do decide to visit the reef with Passions of Paradise, you may be happy to know that we have dedicated staff that are specially trained to help children and young families; guided snorkel tours are always free-of-charge, and are available on request. We hope you enjoy your family's trip out to the reef!