Book Your Great Barrier Reef Tour
Snorkel, Dive & Sail
Cairns Reef Tour Dive Special
ECO TOUR - Be a Marine Biologist For The Day
Full day Outer Reef Tour PLUS Be a Marine bio Experience – starting from $390
Multi Award Winning Great Barrier Reef Tours Cairns
Experience the adventure of snorkelling, diving and sailing on our Great Barrier Reef Tours. The 25 metre high performance catamaran sails daily from Cairns to two unique outer reef locations, where you can dive and snorkel with turtles, colourful fish and see an amazing variety of corals.
Enjoy a personalised day on the Great Barrier Reef with a friendly crew dedicated to making your trip memorable and a local operator whose environmental credentials and attention to detail have earned many awards including the Australian Tourism Award for Adventure.
Our passion for showing guests the adventurous nature of the Great Barrier Reef has helped us win many awards including the Australian Tourism Award for Adventure Tourism. Come and join us on a fun and unforgettable day on our Great Barrier Reef.
Watch Our Tour Video
Sailing on a stylish and fast catamaran to two unique outer reef destinations
All Snorkelling equipment including a free guided Snorkel Tour
Relax on our stylish upper deck or netted deck trampoline at the bow of the boat
A chef prepared tropical buffet lunch of hot and cold dishes including fresh tropical fruit.
Morning and afternoon tea provided
Meet with our Eco accredited marine naturalist who provide presentations on coral fish and life
Your day on the Great Barrier Reef

Cruise from Cairns at 8am aboard the stylish Passions Catamaran to the Great Barrier Reef

Relax with morning tea, get to know the crew and learn all about or marine eco system

Arrive at our first amazing outer reef location, where you can snorkel, dive, sunbathe, or chill out on the boat

Arrive at our 2nd amazing outer reef location, where you can jump in for a swim, snorkel, dive or relax

Wind down with a cold beverage on the sail back to Cairns for 5pm whilst enjoying afternoon tea
REEF LOCATIONS
Passions sail to two unique outer reef locations with a choice of 24 private moorings. Each day we will select the site best suited to the weather conditions to give our guests the best possible experience.
See below the array of activities you can include on your Great Barrier Reef Tour. Whether its diving your interested in or exploring your underwater photography skills, we have you covered.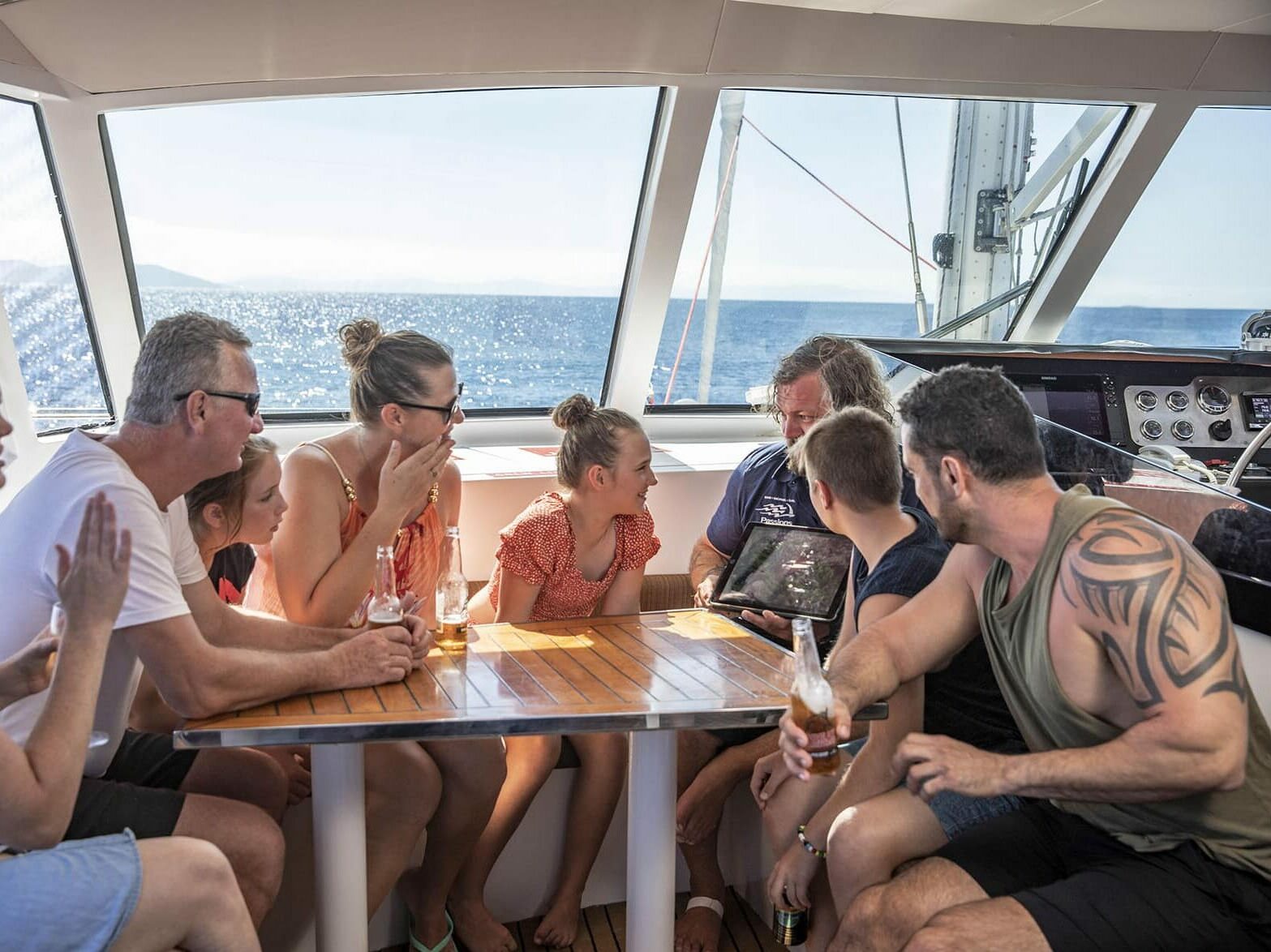 Great Barrier Reef ECO Talk
Included for free on your full day Outer Barrier Reef trip
Join our free eco talk on the way back from the reef following your in-water activities. This fun and lively 30 minute commentary on the coral, fish and unique features of the Great Barrier Reef is a great opportunity to learn more about the ecosystem you have just dived and snorkelled. Highly interactive, marvel at how hard and soft corals co-exist, why reef creatures work together and why Nemo's father is actually his Mother? Come away appreciating how we can all take a part in protecting the Great Barrier Reef for future generations.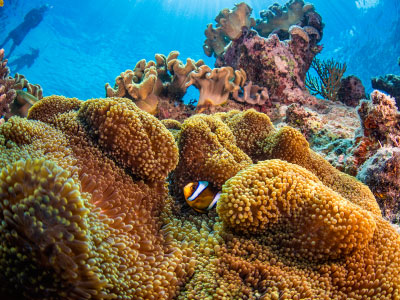 Underwater Camera Hire
From $60
We do have underwater cameras available on board to hire. These cameras are Intova Sport HD's and they take micro SD cards which are available on board to buy or you can use your own! Our helpful staff will show you how use these to take cool underwater videos and photos. The crew are also on hand to help take the perfect underwater selfie on our Great barrier Reef Tours.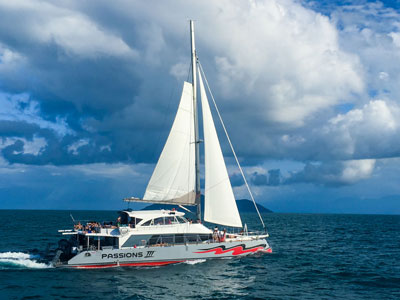 Sunset & Night Cruise Charter
Passions of Paradise is available for sunset and night cruise charters and is an ideal vessel for your next function. You'll experience calm water cruising on Trinity Inlet, and enjoy the magnificent viewing of Cairns by night and the surrounding Rainforest. Get in touch with the passions of paradise team now to arrange a special event aboard your own private charter.
Departure Details and What to Bring
Check in is at our counter at the Reef Fleet Terminal, Marlin Marina from 7:00 am for 8 am departure.
Bring, hat, sunscreen, bathing gear, sunglasses, towel, etc. as you would for travelling to the beach. We have credit card facilities on the boat.
We welcome you to visit us at our counter at the Reef Fleet terminal, open 7 days a week, until 4 pm for more information or email us.
Check out our customer reviews
Read our reviews on TripAdvisor & Facebook or leave us one yourself
We had such a great day on the reef with Passions of Paradise! The boat was comfortable and not too crowded. The crew was professional, knowledgable and approachable, and had high safety standards. They really took care of every passenger, from experienced divers to those who could not swim. You get plenty of time to snorkel at two reef locations, and scuba diving or glass-floor boat tours are optional extras. We had an experience of a lifetime, and would highly recommend it.

Therese - TripAdvisor
We were unsure of which boat to choose for our tour of the reef, but knew we wanted to give the kids a sailing experience of some sort so ended up choosing Passions Of Paradise... We are so glad we did. From the friendly crew, who let the kids "drive the boat", to the water crew that made them feel comfortable having never snorkelled before, they were all amazing. The food onboard was delicious, organised and prepared by the well oiled machine that the crew really are. The best thing about it was how personal it felt... The crew were happy to sit and chat, answer both ours and the kids questions and generally make you feel part of their little family for the day... Great choice for all age groups, families, couples, young groups etc. The scenery was a bonus, exclusive reefs made it that bit more special. Thanks again POP! Can't wait to visit you all again! Love Hayley, Paul, Sam & Charli

Hayley - Facebook
The whole team at Passions made our group feel so welcomed and relaxed. They were informative, and catered for a variety of people's needs; kids, through to grandparents. Locally owned as well. Would highly recommend these guys to anyone for an amazing reef experience.

Elle - Tripadvisor
I went snorkelling back in February as part of a top deck group activity! I wasn't going to go because I can't swim and thought I would be in the way! I'm terrified of the water but I didn't want to leave Oz without seeing the Reef. All the crew on passions were so helpful, professional and encouraging. I wasn't made feel silly for being unable to swim, in fact quite the opposite!
Kieran, a cool guy working onboard, looked after me. He took me out snorkelling and ensured me I was safe and nothing would happen to me! All I had to do was hold onto the life ring and he did the swimming! It was the best experience of my life! I felt so safe despite being terrified! I was so proud of myself. However I don't think I could have done it without Kierans help. Hopefully he reads this. Thank you

Norma - Facebook
Excellent service from Passions of Paradise Great Barrier Reef experience operatin operating out of Cairns in Northern Queensland, Australia. I have just completed second day trip in a month with this company - taking groups of folks for SCUBA & snorkelling bon the reef. A local independent outfit, very professionally run with really positube and supportive atitudes from everyone on board and from the back office staff too. Many thanks to Mossy, Aelx, Nicky, Nichola, Sion & Kate - plus all of the others. I will definitely be recommending you to others! Best wishes from Michael Perrins in Cleveland, Ohio!

Michael - Facebook
The Passions of Paradise tour exceeded all expectations. The crew is friendly, relaxed, extremely service-minded and passionate about the reef and its inhabitants. On top of all this, the lunch was of very good quality. I do recommend to bring something warm to wear after the snorkling though!

Lina - Tripadvisor
Great day scuba diving and snorkeling. Knowledgeable crew with a sense of humor and a great passion for the reef. Not just involved in diving but devoted to the care of the reef and saving it. A pleasure to see and experience! Thank you to Mossy, Russel and Zoe.

Debra - Facebook