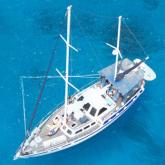 Want to dive and snorkel the best sites without the crowds? Or watch the sun set over the Coral Sea and wake up in the morning with a splash in our warm tropical waters teeming with fish.
On Coral Sea Dreaming we fulfil your dream. Our dive sites are second to none and with over 20 moorings on 9 different reef systems we showcase the best locations on the Great Barrier Reef.
Visit outer reefs such as Flynn, Milln or Norman reef and get up close and personal with our resident turtles, reef sharks, barracuda and Maori Wrasse.
There is never a rush and you can enjoy all the wonders of the reef at your own pace. Consistently rated one of Cairns best reef adventures, Coral Sea Dreaming allows you to explore the reef with a freedom not possible on the larger live-aboards.