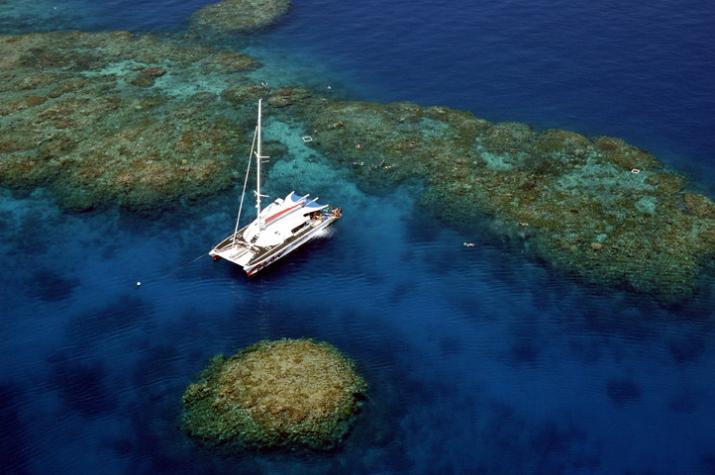 Passions of Paradise is a true local and one of the few left in Cairns. The family owned company built its first catamaran in Cairns in 1987 with the simple aim of providing a fun trip to the reef. In 1997, we cut the boat in half and extended the length by 4 meters.
The result was a faster more comfortable ride, with the added bonus of an extended range to access more reefs. Then, in 2003 the "new" boat was built.
At 25 meters and built for speed, she revolutionised a day trip to the reef and provided a real alternative to travelling on a motor boat.
At Passions, the day starts and ends with our trip. We don't own multiple boats, we are not owned by a multi national and we don't have a human resources department.
We have always been, and remain, a small dedicated operator focused on providing you with exceptional customer service and a fun day.
Our hand picked staff are our most valuable resource and they work hard to ensure that your day on the Great Barrier Reef is a special holiday.
A History Of Sailing The Great Barrier Reef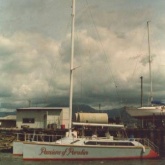 Background – Passions Number 1
In 1987, two friends, Alan Wallish and Steven Carter, after living on their own yachts in Cairns decided that a great way to make a living would be to take tourists to the Great Barrier Reef. It seemed a simple idea at the time, but since they had no money to buy a boat, they decided to build one out of second hand materials. Both partners then worked three jobs each (including delivering pizzas) to fund the project while working every spare hour on construction. Why a catamaran? Steve wanted to build a tri-maran (three hulls), Alan wanted a mono-hull (one hull). They couldn't agree so they compromised on a catamaran (two hulls), and the Passions legend was born. In May 1989, the first passengers traveled from Cairns to Cape Tribulation, on a boat with no roof, second hand truck engines, a sail paid for by a night club, and only 10 sets of snorkeling gear to be shared between 40 passengers. Somehow … we survived!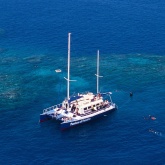 Passions Number 2
In 1997, the company decided that it was time to grow. It still couldn't afford a new boat but decided instead to cut the original boat in half and add 4 meters to the centre. This increased the boat length from 14 to 18 meters and passenger capacity from 45 to 70. It took 11 weeks and went $200,000 over budget but the results were fantastic. The extra numbers, bigger motors and more speed meant that the boat could travel further to the reef and Paradise Reef was added to the Upolu Cay itinerary.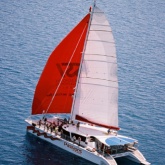 Passions Number 3
In 2001 growth was on the mind of the company again as competition increased in Cairns. The architect that designed the original Passions, came out of retirement and designed a custom 25 meter, 80 passenger, $2 million fiberglass sailing cat. The company still didn't have enough money, but banks were friendly and so with a big debt over their heads, and fingers crossed, Passions 3 was born. It was not to be an easy birth though. In the Sydney bush fires of 2001, the boat (which was half built at the time) was burnt to the ground and it took another 18 months before version two took to the water. The response to the new boat was tremendous, and with a full commercial galley, air-conditioning, specialized dive deck, and extra space for passengers, it was an immediate hit. In 2005, the company was able to obtain permission to travel to Michaelmas Cay, which resulted in a major directional change towards eco-tourism and more appealing product to a much wider market. The result is that the company has won the last four Queensland Tourism awards in a row. From an initial staff of 4 in 1987, the company now has 27 employees and takes 25,000 tourists to the reef. Alan Wallish, one of the original founders of the company, still runs the company (though he doesn't have to deliver pizzas anymore).